Welcome to the very best in winning NFL and College Football picks.

Rick Gagliano | August 22, 2013
---
---
---
---
---
NCAA PRESEASON TOP 25
1. Georgia - Last season, the Bulldogs fell five yards short of beating Alabama in the SEC title game and heading to a chance at a national championship. This year, quarterback Aaron Murray and 10 returning starters from that offensive unit are back to make history in another way.
Georgia has one of the best pure passers in the country in Murray and one of the most explosive offenses. They are primed to challenge Alabama or any team that comes their way, with the SEC title and a national championship in their sights.
On the downside, the Bulldogs must replace eight defensive starters, a heady task, but coach Mark Richt should have the players he needs to compete in the SEC.
Things will get interesting early for the Bulldogs, opening at Clemson on August 31 before hosting South Carolina, September 7. Also on the schedule are LSU, Vanderbilt, Florida and Georgia Tech, the annual in-state rivalry that marks the end of the regular season for the Bulldogs and Yellow Jackets.
Georgia has enough motivation and the players to get back to the SEC title game, and, once there, anything can happen. A win there will likely put them squarely into the national championship.
2. Ohio State - After going 12-0 while under an NCAA ban, the Buckeyes proved one of the best teams in the nation, though they were deprived of any of the glory or accolades that would have come with post-season play.
That may work to Ohio State's advantage this season, as many of the Buckeye players feel they have already proven where they fit into the college football scheme of things: at the very top, and will be willing to put it all on the line for second-year head coach Urban Meyer.
Quarterback Braxton Miller returns for his third year as a starter, and there may not be a more talented and experienced QB n the country. Most of the talent positions will be filled by returnees, as will four of the five offensive line positions.
On defense, there are some gaps to fill, with six of the front seven starters from last season now departed. Despite the one-year suspension, the recruiting didn't miss a beat, and Meyer has loaded up on defensive prospects to fill any void.
Ohio state will be a force with which to reckon, as they can win games with defense or by simply outscoring any team they may face. Last year's suspension may become nothing more than a bad memory if everyone stays healthy.
3. Alabama - Some may be surprised to see Alabama ranked third here, but the fact of the matter is that there are other teams on their level in the college football scheme this season.
Sure, AJ McCarron and the Crimson Tide are seeking a third straight national championship, but they have any number of pitfalls awaiting them in and out of the SEC, including an opener in Atlanta's Georgia Dome with Virginia Tech, a September 14 meeting with Texas A&M (who beat them last season) and games against Arkansas, LUS and the season finale with Auburn.
Still, the faithful in Alabama can't overlook the fact that Nick Saban has created another dynasty in crimson and white, rivaling even the legendary Bear Bryant.
With McCarron back and T.J. Yeldon at his side (1,108 yards rushing in 2012), there's little doubt that the Alabama offense will be a model of efficiency, though three linemen need to be replaced and on defense, there's a lack of experience in the secondary. Saban, is, however, one of the best recruiters, so doubts about Alabama's depth don't go far.
The Crimson Tide could easily be playing for another national championship come January.
4. UCLA - One of the more surprising teams from last season was UCLA, as the Bruins unveiled a true freshman and a no-huddle offense, eventually falling to Stanford in the PAC-12 championship.
QB Brett Hundley set school records for passing (3,745 yards) and total yards (4,095) and returns with experience and high aspirations for coach Jim Mora.
The Bruins lost their leading running back, Johnathan Franklin, to graduation, but he will be replaced by a trio of untested running backs, though the speed offense may be to their benefit if they can avoid mental mistakes and fumbles.
UCLA's defense will be solid but not overwhelming, good enough to win most games, because the offense can and will put up plenty of points.
The PAC-12 is loaded this season, but there's plenty of talent and desire at UCLA and they just could take the next step forward.

--- Story continues below ---
5. Texas A&M - With Heisman winner Johnny Manziel back directing the offense, the Aggies are in line for another run into the upper echelons of college football. Manziel totaled 5,116 yards of offense in 2012, but opposing defenses will be more attuned to his skill set this season, making it tougher for the talented QB - nicknamed "Johnny Football" - to guide his team to victories.

It doesn't hap matters that on the A&M schedule are games against Alabama and at Arkansas and LSU, or that the defense has been decimated by graduation and suspension.

That defense allowed only 21.8 points per game in 2012, and will be hard-pressed to replace some starters. The needs are across the spectrum, on the line, in the linebacking corps and in the secondary.

Still, other than 'Bama and LSU, the Aggie schedule isn't all that bad, sidestepping Florida, Georgia and Suth Carolina, with non-conference games against Rice, UTEP, SMU and Sam Houston State.

With a little luck and the heady play of Manziel, survival in the SEC is a given; triumph, and a BCS bowl berth may be harder to come by.



6. Stanford - Eight starters return for the Cardinal defense from last season, when they were ranked #5 against the run and stunned everyone by beating Oregon, 17-14, in mid-November on the road.
Stanford won the PAC-12 championship and finished the season off with a 201-4 Rose Bowl win over Wisconsin. They will be one of the leading defenses in the country, complimentary to an offense that likes to pound the ball inside, hold possession for long stretches and simply wear down opponents.
While the Stanford offense isn't what it once was with Andrew Luck behind center, sophomore Kevin Hogan was 5-0 as a starter last year, gaining valuable experience.
The Cardinal will vie once again for the PAC-12 championship and maybe even more. Key games in the second half of the season include a four-game stretch with UCLA, Oregon State, Oregon and USC as opponents. If that's not enough, November 23 is the annual game vs. Cal, followed by a home meeting with Notre Dame. If the Cardinal survives all of that, a BCS national championship could be in the cards.
7. Clemson - Now a senior, Clemson QB Taj Boyd is likely to get plenty of mention along Heisman terms as he leads one of the nation's most potent offenses toward an ACC championship.
Boyd's main target - when he's not running with the ball - will be versatile Sammy Watkins, a near-certain All American receiver with moves and speed that will dazzle and dismay opposing secondaries.
The Tigers are fairly well-appointed on defense as well, with the core returning from last year, when they were third in the conference in points allowed, at 24.9 per game. The ACC is a pretty well-balanced conference this season, though Florida State and Clemson appear to be standouts. If Boyd has a senior season that's up to his potential, a national championship bid could be in the making.
--- Story continues below ---
8. Oregon - Coach Chip Kelly takes his speed offense to the NFL (Eagles), but leaves behind one of the most talented teams in college football.
Having been in four straight BCS bowl games, the Ducks have been in the national championship argument for all of this decade and may still find their way to the top of the heap once again.
There's a lot of new-ness in Oregon this season with a new head coach ( former offensive coordinator Mark Helfrich) and some staff changes and a new stadium and exquisite training facilities. What hasn't changed much is the core of the offense, with QB Marcus Mariota returning alongside running backs De'Anthony Thomas and wideout Josh Huff. The Ducks led the nation in touchdowns last season, scoring an incredible 89 of them.
Oregon will certainly be in the PAC-12 title mix, with UCLA and Oregon State visiting, while the Ducks will travel to play Stanford.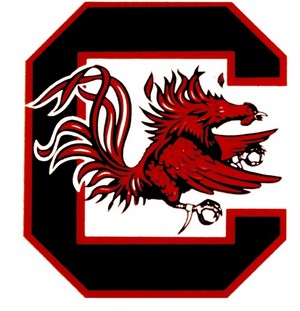 9. South Carolina - The Gamecocks will be very competitive in the loaded SEC this season, but a big test comes early when they travel to play the Bulldogs in Georgia. After that, the biggest threats come on October 12 when they play at Arkansas, November 16, hosting Florida and the season-ender with Clemson, a home game for South Carolina on November 30.
Dodging Alabama, LSU and Texas A&M on the conference schedule may make the Gamecocks appear better than they are, but it could also hinder their BCS chances due to a poor strength of schedule.
The defense will be the mainstay in South carolina, with defensive end Jadeveon Clowney returning to the nation's 11th-ranked unit from last season. Coach Steve Spurrier has a couple of returning QBs in Connor Shaw, the likely starter, and backup Dylan Thompson, who filled in well in two starts, winning them both, last season.
10. Texas - Returning 19 starters from last year's 9-4 squad, the Longhorns are looking forward to improvement in 2013. Last season ended on a high note, with Texas defeating #13 Oregon State in the Alamo Bowl, 31-27, when the defense generated ten sacks.
With all the turnover in the Big 12, Texas QB David Ash is now the most experienced signal caller in the conference, with 18 starts, a huge plus for the Longhorns, especially with the return of Mike Davis and a bevy of quality receivers.
With an improving defense, if Texas running backs can stay healthy, which was not the case last year, the Longhorns may be looking at the conference championship and a BCS bowl game.
Click here for teams 11-25.