CAROUSELS FOR THE YOUNG AT HEART
The carousels, horses and other animals are entirely hand-crafted from bass and pine woods.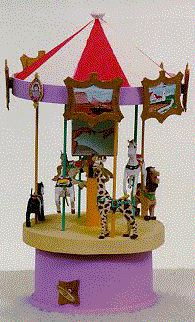 Carousels can be individually designed for any purpose or particular theme, as birthday gifts or for special occasions.
Key-wound music boxes generate many of the carousels you will see on these pages, in clock-wise circular motion in the one-movement and two-movement designs. All of the musical carousels rotate and some (two-movement) feature an up-and-down movement of the horses just like the real ones you rode as a kid.
These hand-crafted miniatures normally stand 16-18 inches in height, with round bases and gaily-decorated animals, panels and tops.
Mr. Gagliano has displayed various models at area shows and has won awards at Genesee Valley Woodcrafters competitions, winning first, second and third-place honors in three different categories at his initial show. In subsequent years, Mr. Gagliano has again captured top prizes in numerous categories.
As far as can be discerned, they are the only miniature, all-wood carousels to be found anywhere in the world. Their intrinsic value is in the uniqueness of design - like snowflakes, no two are alike, and all are the proud product of one creator's hands.
All carousel tops, base and four panels are decorated with duplicates of the maker's original artwork. Mirrors are mounted on the carousel top and stem.
These unique, delightful carousels brighten every room and make outstanding gifts and conversation pieces.
A 4-horse, one-movement carousel can also be powered by batteries or by electrical outlet with an on-off switch. The music box selection for this type is limited.
Musical selections can be made from a list of over 150 popular tunes.
Take a look at some of the miniature single carousel figures on the next page..
---
For pricing information to order a custom-designed carousel, contact Nick Gagliano at 585-266-9089 or send an email with your request.