Sports Illustrated magazine January 14, 1957
COVER: Skiing in Utah
FEATURES: Last Seconds of a Championby Martin Kane, and classic photos by Hy Peskin, recounts the 15-round battle for the middleweight championship won by Gene Fullmer over reigning champion Sugar Ray Robinson; Duck Hunters in Paradiseby Virginia Kraft and photos by Ed Stein, showcases the Cuivre Club in Missouri and Drank's Landing Club in Arkansas, on the "flyway."; Deep Powder in Utahby Ezra Bowen, highlights the Alta-Brighton Ski Area of Utah with dazzling photos and maps; The Boxing Record of Julius Helfandby Martin Kane, features the commission chairman, Helfand and his record of cleaning up the sport; After The Bowls- recap of the major college football bowl games; Basketball by Jeremiah Tax, looks at the mid-season in pro hoops, with an action photo of Dolph Shayes; plus horse racing in Florida, searching for pirate treasure, great ads and much more!
PAGES: 64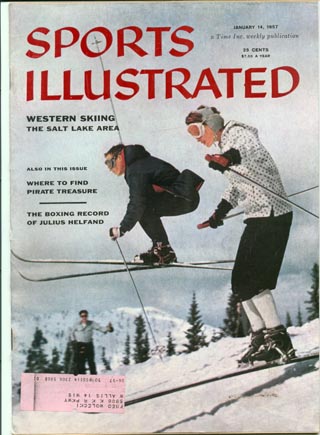 Sign up for the Back Issue Price Guide newsletter to receive updates and special sale info.
Subscribe by entering your email address:
All information relating to the content of magazines presented in the Collectible Magazine Back Issue Price Guide has been independently sourced from published works and is protected under the copyright laws of the United States of America. All pages on this web site, including descriptions and details are copyright 1999-2022 Downtown Magazine Inc., Collectible Magazine Back Issue Price Guide. All rights reserved.