March Madness: Break out the Sports Illustrated!by Rick Gagliano - 3/2/07.
In two weeks, the nation will be plunged into the annual rite of pre-Spring, the NCAA Men's Basketball Tournament, otherwise known as March Madness.
There is no other sporting event as well-covered or extensive as the Big Dance, which rivals baseball's World Series and professional football's Super Bowl. The event spans a full three weeks - from mid-March to the first weekend in April - involves 65 teams, and is carried live on national TV (CBS has been the provider of college basketball coverage for the past 25 years), some of it even preempting daytime soap operas and even Oprah.
The office and online bracket pools and calcuttas are legendary, and the Vegas sports books do a land rush business, taking in roughly $90 million in wagers. That figure is dwarfed by the legal and illegal take of nearly $4 billion in betting worldwide.
For magazine dealers, collectors, and sports memorabilia aficionados, Sports Illustrated has over the years provided some of the most memorable and collectible magazine coverage.
The weekly magazine features college basketball on as many as 8 or 9 covers in a given year, creating a March Madness bonanza as the tournament commences.
SI offers an annual college basketball preview issue at the end of November, when the season begins, and usually will have at least one cover featuring college hoops in December, January and February. March is nearly entirely devoted to the sport, as coverage of conference tournaments dominate the first week of the month, followed by Selection Sunday (this year, March 11), and each successive round (opening, Sweet 16, Final Four) culminating in a champion (usually) crowned the first Monday in April.
The issues most in demand by college hoops fans are the championship covers, the early April issues, though there are notable exceptions. While no college-basketball-themed issue will likely ever eclipse the 1982 issue with Michael Jordan and Sam Perkins of North Carolina on the cover ($xx-xx), the college hoops preview issues featuring Larry Bird and Magic Johnson are close.
Since UCLA dominated the 60s and early 70s with Kareem Abdul Jabbar (then known as Lew Alcindor) and Bill Walton, and those players were never fully embraced by basketball fans, the best issues are from the late 70s to the present, with the bulk of them coming from 1977-1992. These issues are in good supply and readily available, yet still command high prices due to the players and teams featured. Along with Michael, Larry and Magic, the teams from Duke, North Carolina, Kansas, Louisville, Kentucky and most recently, Florida have huge fan bases. These issues are highly prized as collectibles and generally worth the money.
Some of the more sought-after championship and preview issues follow (with low, high and average prices from the price guide) plus links to detail pages or larger cover photos where available.
8-Apr-91, Grant Hill, Duke Blue Devils; Duke wins NCAA Tournament, ($1.00, $10.00, $7.00)
11-Apr-88, Danny Manning, Kansas Jayhawks; Kansas defeats Oklahoma for NCAA title ($5.00 $20.50 $12.75)
7-Apr-86, Pervis Ellison, Louisville Cardinals; Louisville beats Duke for NCAA championship ($5.50 $11.50 $9.00)
8-Apr-85, Ed Pinckney, Villanova Wildcats ($2.50 $41.00 $15.11)
11-Apr-83, Thurl Bailey, Derrick Wittenburg and Sidney Lowe of North Carolina State Wolfpack win NCAA basketball championship ($4.00 $27.50 $15.29)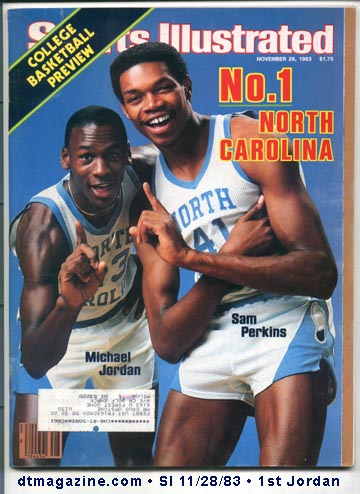 28-Nov-83, Michael Jordan (FC) (with Sam Perkins), North Carolina Tar Heels; College Basketball Preview Issue ($23.00 $56.00 $42.39)
26-Mar-79, Larry Bird of Indiana State; NCAA Tournament ($1.75 $22.50 $10.05)
2-Apr-79, Magic Johnson, Michigan State wins NCAA ($2.50 $15.50 $8.00)
3-Apr-78, Goose Givens, U of Kentucky Wildcats win NCAA Title ($4.25 $15.75 $8.10)
27-Nov-78, Earvin (Magic) Johnson (FC), Michigan State - College Basketball Issue ($8.00 $40.00 $18.38)
4-Apr-77, Butch Lee of Marquette - defeated the University of North Carolina in the finals of the 1977 NCAA Basketball Tournament. ($3.00 $26.00 $8.36)
28-Nov-77, Larry Bird, Indiana State (1st Cover) - College Basketball Issue ($10.00 $50.00 $18.17)
28-Mar-66, Hem Flournou/Pat Riley Texas Western/Kentucky Basketball NCAA Championship; Ted Turner ($2.75 $19.00 $9.80)
31-Mar-69, Lew Alcindor and the UCLA Bruins win NCAA Championship ($4.00 $11.00 $7.25)
If you're a Sports Illustrated seller or dealer, March is the month to break out the good stuff as the frenzy of the sport is never higher. For buyers, tread and bid carefully. It's likely that these issues can be bought for less - like most sports-related items - in the off-season.
---
1 || 2|| 3 || 4 || Next
---
© Copyright 2007 Downtown Magazine, All Rights Reserved.